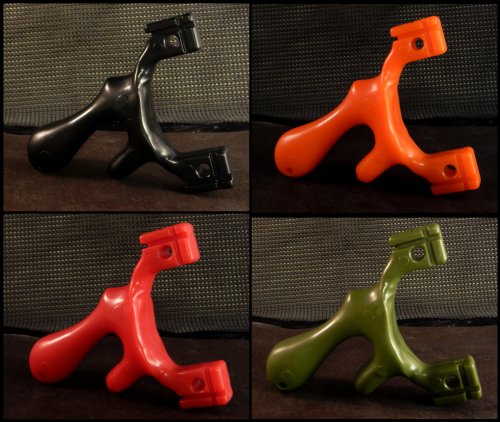 Click to enlarge
The Universal BoyScout
The BoyScout is so named because it was specifically designed for beginner shooters with more junior sized hands... like a BoyScout generally possesses... and it also has Universal Forks!
The forks are wide and deep to accommodate a beginners natural tendency to get fork and frame hits. Fork tips are universal so a variety of banding configurations and elastics can be used.
The grip area is contoured on all sides in such a way as to encourage optimal grip and shooting form for holding and use in the side shooting fashion.
Although the Boyscout slingshot was designed for beginners it's still an "old" favorite design of many older, much more experienced slingshot shooters as well. All in all, it's just a really nice, comfortable, easy to use slingshot for a wide variety of ages, sizes and experience levels.

click play to see The BoyScout in 360 view
For this slingshot we left it "unbranded" with no makers mark so that youth groups and other organizations can add their own if they so desire. We also offer a pretty good discount for buying in bulk so it's less expensive and more convenient for group buys.. check the options below!
If you're in the USA it comes to you banded up ready to shoot and includes ammo... if you're overseas, then due to customs concerns, no ammo is included and the slingshot comes with bands but is not prebanded!
Each time you click the "Add to Cart" button it will open with your selections in a new paypal window or tab... to continue shopping, close the window/tab and continue selecting!