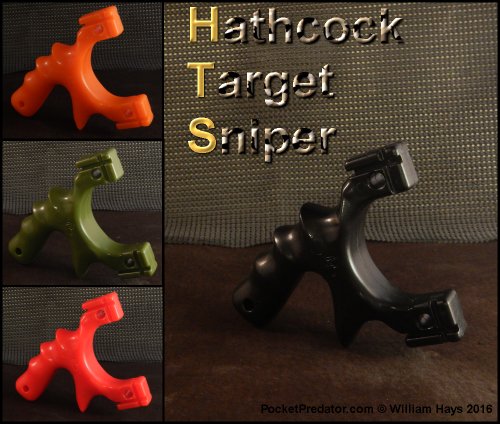 Click to enlarge
The Hathcock Target Sniper
With finger grooves for positive and repeatable grip placement and a nice wide and forgiving fork interior... it's designed to be the ultimate side shooter and is the one we recommend for most adult men beginners because it's so easy to use and master... and YES it is named to honor one of the greatest of all Snipers to have ever served in the Marine Corps, Carlos N. Hathcock.
Ergonomics is a very overused term in design... for slingshots many believe pretty much any canted handle slingshot is "ergonomic". But that is not necessarily the case. For a slingshot to be ergonomic the holding wrist needs to be in a neutral, unstressed position yet at the same time the pull forces on the forks need to be evenly distributed so that the shot itself is symmetrically released for better accuracy.... The design itself should feel comfortable, having no sharp or abrupt edges for your hand or fingers to rest on, and that's what the "HTS" does better than almost anything else!
These slingshots are made from SOLID ballistic grade Polycarbonate, the same stuff used in bullet proof windows like in the President's limo, but without the glass fill so there's almost zero chance of shatter. This material is quite possibly the ultimate material to make a slingshot from. It's flexible yet extremely strong... it can take fork hits and other forms of abuse better than almost anything else... and it can come in different colors as well. ... while at the same time it's weight provides pretty close to optimal heft and it's inherent rigidity gives a proper feel in the hand that along with the HTS's natural ergonomics makes for a super easy to use and aim slingshot, insuring superior accuracy right out of the box.
Featuring our extremely versatile Universal Forks, you can use flat bands, squares or tubes and shoot through the forks or over the top... and use ammo ranging from marbles to steel bearings to lead balls or even arrows, without any modification or alteration of any sort to the frame!
The Hathcock is offered in Jet Black or Olive Drab Green (US Military Green). The polycarbonate frame is a touch smaller than the original, being little over a full inch thick X 2.5" between the thumb and forefinger and is very comfortable to grip for most men with hand sizes ranging from a glove size of medium to XXXL. If you can shoot a bow... you can shoot this one!
If you're in the USA it comes to you banded up ready to shoot and includes ammo... if you're overseas, then due to customs concerns, no ammo is included and the slingshot comes with bands but is not prebanded!

click play to see The HTS in 360 view

Also, because Polycarbonate is inherently shiny, we do offer a more matte finish for hunters as well... (sandblasted with zirconium)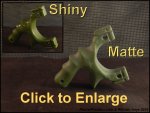 Each time you click the "Add to Cart" button it will open with your selections in a new paypal window or tab... to continue shopping, close the window/tab and continue selecting!
---
For extra ammo, bandsets and more, visit the accessories page!