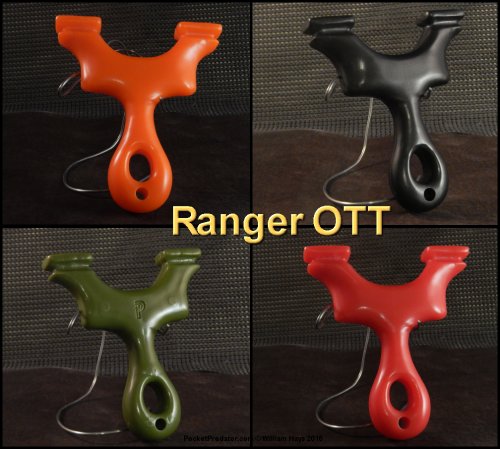 Click to enlarge
The Ranger OTT
Designed for Over The Top shooting (OTT), the Ranger OTT is the most comfortable, the most intuitive slingshot of it's type we've ever held and used.
And a big part of the reason the Ranger OTT is so familiar, so perfect, so intuitive feeling is pretty much every part of this slingshot is taken from many other slingshots in an effort to create the one perfect Over The Top (OTT) shooting slingshot. For example the ellipse shaped pinky hole was taken from the SEAL Sniper... the full over an inch wide, heavy hunting bands sized fork tips taken from the original Scorpion... the wasp waist and shoulders from the Covert Hunter... the lanyard hole size and placement from the Ferret... the interior fork size, shape and finger/thumb inset from the original Ranger.
Made from solid ballistic grade polycarbonate, the Ranger OTT is far more robust and can take far more abuse than any wood or other polymer based slingshot... and at 5" tall X 4.375" wide X 3/4" thick, it's sized to fit in a back pocket perfectly..
The Ranger OTT is very comfortable to use with either a forefinger and thumb support grip or a thumb wrap around pinch grip... Furthermore it can be comfortably shot in an upright, side or anywhere in between hold position.

click play to see The Ranger OTT in 360 view
Because the Ranger OTT is made in a standard type mold... one that opens evenly in the middle... and it's not as thick and heavy as most of the other polycarbonate slingshots we make, the cost to produce them is less... and of course we pass it along so the price reflects that as well!
If you're in the USA it comes to you banded up ready to shoot and includes ammo... if you're overseas, then due to customs concerns, no ammo is included and the slingshot comes with bands but is not prebanded!
Each time you click the "Add to Cart" button it will open with your selections in a new paypal window or tab... to continue shopping, close the window/tab and continue selecting!