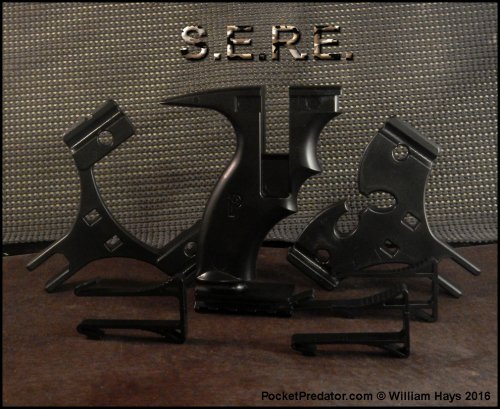 Click to enlarge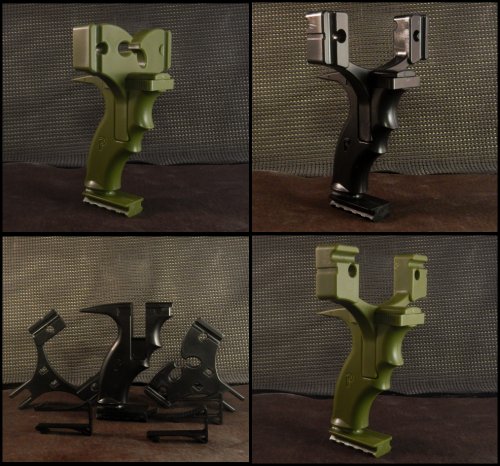 Click to enlarge
The S.E.R.E.
SERE stands for Survival Evasion Resistance and Escape... All military pilots and crew who fly over enemy territory are trained in SERE techniques at one of several specialized schools in the United States.
In 2012 we were approached by SERE instructors from the Washington State school about the viability and usefullness of a slingshot in the "ditch bag" that pilots carry with them in the case of having to "punch out" of the cockpit, go down and have to use SERE tactics until being rescued. At first we were not to Gung Ho on the idea... Thinking that a small caliber silencer equipped firearm with extra ammo would be a better choice... but after some persuation we did come around to their way of thinking.
So what was needed is a highly versatile slingshot that is extremely easy to use, super intuitive, easy to master... it needs to be able to use many types of elastic, shoot effectively with all kinds of different ammo types and sizes, including arrows... yet it needs to be small and light enough to be included in the "ditch bag" in the first place. Seeing that our existing Hammer Takedown model slingshot with multiple modular fork types already fit most of those requirements, we simply went with a skeletonized and reduced size version of that... Then over the course of several months of trying out various things back and forth... small mods here and there.. The SERE in 6061 aircraft grade aluminum was born. From that strictly utilitarian military version comes the SERE in Polycarbonate!
The aluminum SERE was a very popular, in demand, slingshot and we're sure the PolyCarbonate model will be even more popular and in demand for some very good reasons. First, PolyCarbonate (PC) itself has some very real advantages over aluminum... Lighter in weight, more easily contoured and rounded for better ergonomics, PC can be injection molded, yet it has very similar impact absorbing characteristics... in fact, PC may actually be better at taking impact abuse than aluminum because it is far less likely to stress fracture from repeated strikes. The "feel", aluminum is almost always to cold or to hot and it leaves oxidized residue on your hands... PLUS, because this slingshot contains no metal, it has a ZERO metal or magnetic signature... which means covert carry is not a problem.
Also, note some of the defining characteristics of this new and improved design... The much deeper and inherently more stable interchangable forks and fork mounting recess.... necessary, we found, because although polycarbonate is very strong it's still not quite as rigid as aircraft grade aluminum. Next look at the fork to handle fastening design... never a worry about vibration induced loosening of the forks, simply due to the double wrap around THROUGH the fork closure system.... plus, if you lose your fork clip while "in the wilds" then it's a simple task to just push a little stick on and through there instead and the slingshot will function just fine.
Next, the frame's grip is canted like a high end target pistol grip... with an enlarged beavertail that allows greater surface area for balancing out the draw forces... after that, the web support area is inletted to allow the "drumstick" part of the thumb muscle to attain a more natural hold position which promotes natural point and shoot accuracy. To the front, the two finger grooves... your two strongest fingers naturally pull the frame deep into your palm and webbing, while the frame's ergonomic tapering allows for the shorter ring finger and pinky to engage and properly balance out the grip for an extremely comfortable and easy to use hold while shooting in any position... forks up, to the side, or anywhere in between. Then on down to the picatinney rail... you can mount a reel for bowfishing, or a flashlight for night hunting... or BOTH if you want to bowfish at night... the rail is just long enough!

click play to see The SERE in 360 view
In short every part of this slingshot has been thoroughly tested in a variety of uses and situations... and it's been found to perform above expectations in every way. In fact after we gave away some of the prototypes at tournaments... it wasn't to long before some of our competitors announced they were going to come out with their own versions!
The SERE comes with both an Arrow rest fork top and a standard reversible fork for shooting round projectiles either over the top or through the forks... and we also include a couple extra wrap around fork clips, for a total of 3...
The SERE is able to be made in a standard type mold... one that opens evenly in the middle... it's not as large per piece as most of the other polycarbonate slingshots we make, plus we don't have to split our sales income with anyone else since we, ourselves, did the vast majority of the designing, engineering, testing and "grunt" work starting out in 2010... Which of course means we can bring these out for a lot less than others may be trying to sell similar slingshots!
If you're in the USA it comes to you banded up ready to shoot and includes ammo... if you're overseas, then due to customs concerns, no ammo is included and the slingshot comes with bands but is not prebanded!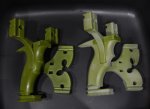 Each time you click the "Add to Cart" button it will open with your selections in a new paypal window or tab... to continue shopping, close the window/tab and continue selecting!