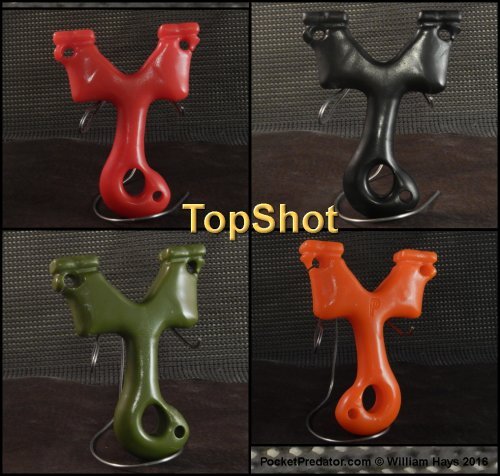 Click to enlarge
The TopShot
By popular demand we now introduce the TopShot slingshot.
The TopShot was originally designed and made with inconspicuous carry in mind... You see, in the United Kingdom and other European countries, many people carry a small slingshot when they're out on walks, and if they happen to see a pheasant, or some other target of opportunity, that helps to "fill the pot" for dinner... they then take out that slingshot and... well, they put food on the table with it!
In other parts of the world, like Central America for example, the discreet carry slingshot is a staple of self protection against aggressive dogs and other "beasts" who may seek to prey on those who are out and about...
Measuring just a touch under 5" long X 3 5/8" wide at the forktips and 3/4" thick... the TopShot is definitely a favorite of those who prefer a discreet carry slingshot... Yet, because the forktips on this one are an inch wide, it can still take full hunting strength bands without having to fold them over like you have to do on so many other discreet carry sized frames.
When you first look at the TopShot, you probably notice it's reverse canted grip area with the elliptical pinky hole... that's so the user can immediately deploy and shoot very quickly and accurately with the forks in an upright position... but at the same time, used as a sideshooting OTT slingshot, it's hard to beat the instinctual feel and pointing ability of this frame.

click play to see The TopShot in 360 view
Historically, this has been our top selling OTT slingshot... and now that we have it made from solid ballistic grade polycarbonate, available in multiple colors and with the option of using either flatbands or tubes just as effectively... It wouldn't surprise us at all if that trend didn't continue!
Because the TopShot is made in a standard type mold... one that opens evenly in the middle... and it's not as thick and heavy as most of the other polycarbonate slingshots we make, plus we already have a bunch of these sold in advance, the cost to us is a lot less... so of course we pass it along and the price reflects that as well!
If you're in the USA it comes to you banded up ready to shoot and includes ammo... if you're overseas, then due to customs concerns, no ammo is included and the slingshot comes with bands but is not prebanded!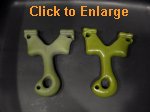 Each time you click the "Add to Cart" button it will open with your selections in a new paypal window or tab... to continue shopping, close the window/tab and continue selecting!