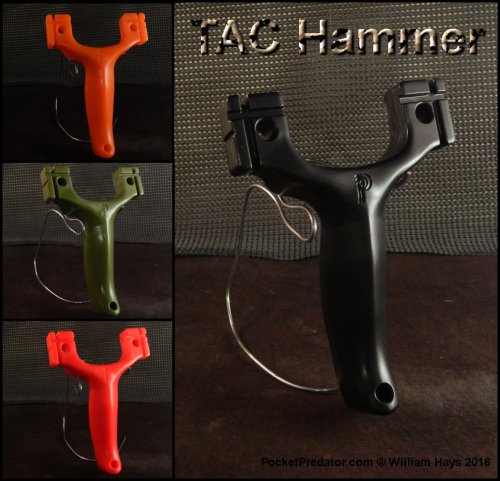 Click to enlarge
The TAC Hammer
"Top seller for youth and senior shooters"
It seems that most new shooters gravitate towards a Hammer Grip style of slingshot... and there's advantages to a hammer hold, forks can be a little lower for better leverage... Hammer style slingshots fit a greater variety of hand sizes.. and kids just love them!
If hammer grip hold is your style... or if you simply want a REAL ergonomically designed hammer grip slingshot that is specifically engineered to help you shoot more accurately even with heavier bands... then this slingshot is for you!
At first look you may think you've seen slingshots like this one before... You may say that the design is very familiar, probably been done before and so forth... but you would be mistaken in that... NO other solid molded hammergrip slingshot has ever been made like this one... the key to that is the unique handle/grip shape that utilizes the mold within a mold design to make it even possible.
A mold design that allows for true ergonomics on a slingshot that makes for a much more comfortable shooting experience.
Ergonomics is a very overused term in design... seems like everyone and their uncle are pushing how ergonomic their slingshot is... but let me tell you what, THIS slingshot was designed to fit the hand perfectly and to give you an edge in aiming and control..
The slingshot was designed to fit the hand, and then the mold was designed to fit the slingshot instead of the other way around, like everyone else has been doing up until now!

The TAC Hammer and it's uniquely designed shape... A shape that allows for a true custom feel, but on a manufactured piece...
The handle/grip on this piece could very well be used to teach a master's class on slingshot grip/handle ergonomics... Rounded on the back to provide the proper amount of cushioning against the weight of the draw... with a rounded straight edge in front to allow for intuitive, almost instinctual pointing and aiming. Canted just the perfect amount to allow for a stronger more natural straight wrist hold... enlarged slightly in the middle to fill the hollow of the hand... bigger at the top to accommodate your longer fingers, narrower at the bottom so that your shorter pinky and ring fingers can naturally curl and grip over the front acting as a counter balance to pull forces... Fork tips style and placement in relation to the grip are such a way that handslap is largely eliminated when shot in Over the top (OTT) configuration and completely gone when shot in the Through the forks (TTF) shooting configuration...
Truly every part of the hand and slingshot has a place, is properly accounted for and adds to this slingshot's functionality.

click play to see The TAC Hammer in 360 view
Then add to all of that, it's made from the highest quality of materials (solid ballistic grade polycarbonate)... This slingshot is exactly like the custom prototype that took about 5 hours to make... except that it's exactly the same from piece to piece, comes in more colors and is far less expensive!
If you're in the USA it comes to you banded up ready to shoot and includes ammo... if you're overseas, then due to customs concerns, no ammo is included and the slingshot comes with bands but is not prebanded!
Sold out
Each time you click the "Add to Cart" button it will open with your selections in a new paypal window or tab... to continue shopping, close the window/tab and continue selecting!