| | | |
| --- | --- | --- |
| | The Source for some of the most advanced pocket sized slingshots in the World! | |
Testimonials
Normally I'm not a big fan of posting testimonials about things I've done. There are just so many products and websites out there that use made up names, places, and claims. It all makes me just a little apprehensive.
But we've had so many customers send us emails and do reviews of our slingshots... some who expect me to use their words in a testimonials section... it would almost be rude not to use at least some of them! So here it goes, we'll list a few:
---
First, just to be clear, we do a LOT of business with many many military people... We literally have hundreds of letters of thanks and many many very personal items that have been sent to us as a way of thanks.
We TRULY thank all our friends, AND FAMILY who are currently serving to protect America and American interests both here and abroad... BUT we also know that simply naming you and or letting people know where you are, could possibly cause problems with the security and safety of your mission... We will simply keep and appreciate all personal correspondence... Unit citations and thanks will be held back and may be used after a sufficient amount of time has passed to make sure mission integrity will not be compromised.
With that being said, we do have some, a relative few to the many we've received, items that we are proud to display from some of our many many friends who are serving:
From some of our closest friends: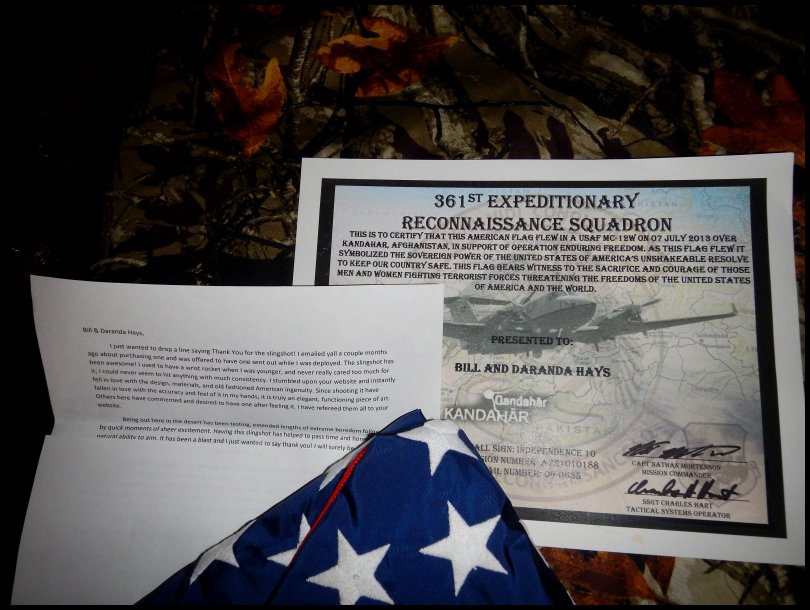 Letters were also included, but had to much personal information;
So this is only part of the unit's appreciation and thanks: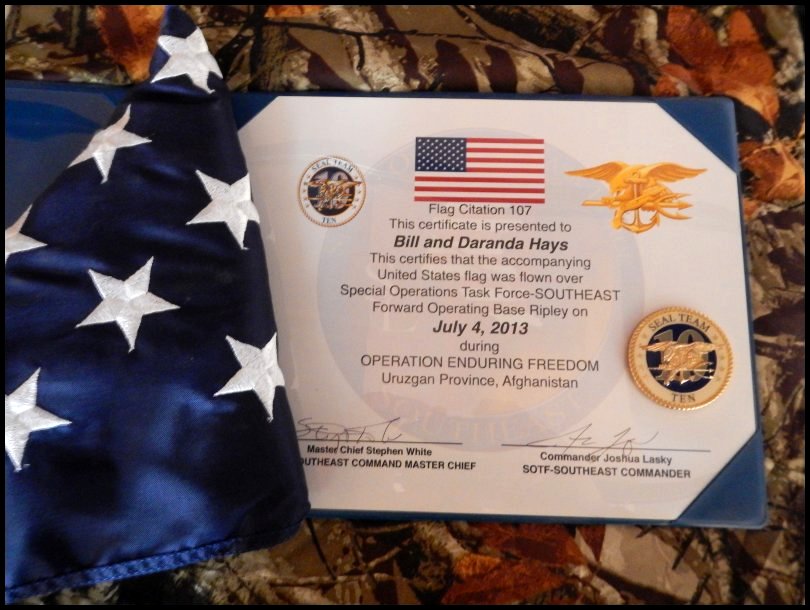 We have so many of these it was hard to choose... so in a couple years, when everyone is home, we'll add some more: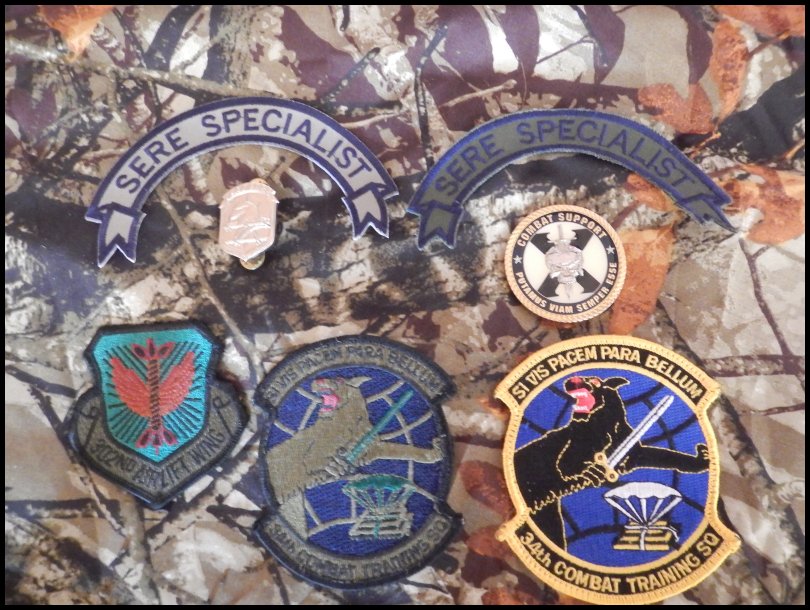 ---
Jorg Sprave, internationally known slingshot expert and youtube sensation:

Joerg Sprave:

Bill, I am humbled by your work. Wow! Can't wait. 

You are truly a great slingshot maker. Pure creativity meets fantastic workmanship. Rare finds in a single person!

Jörg
---
Madison Parker, SEAL Team one, and Spec Ops survival instructor:

Madison Parker:

Bill, your SS is a true master piece. I have shot it with the TBGs and I also mounted some chinese tube on it. 
It shoots like a dream either way. a very versatile, ergonomic, and accurate slingshot. Your work is above reproach. 
I would like to learn how to work with that G10. Maybe someday you can teach me how...Thanks so much for your generosity. 

Good on you my brother...Madison 

---
Michael McClure, Guinness Book of World Records holder:

Mike:

Ever since I saw Bill Hayes' Hathcock Target Sniper I knew it was for me. 
Don't ask me how, I never held one or even saw one in person. I just knew.
Turns out I was right! My Polymer Series Hathcock came in the mail today and it's awesome. 
It fits my hand like it was custom made for me and is even more accurate than I expected. 
Bill sent it banded up with Thera Gold and I think the speed of these bands helps in that respect too. 
Now I see what all the fuss was about regarding Theraband, I might be a convert.
Don't let the "budget" and "polymer" labels fool you. While this is an affordable slingshot there is 
nothing cheap or cut-rate about it if your goal is hitting whatever you aim at. 
Sure, the finish isn't muesem quality, but if that's the compromise for this level of performance at a price 
I can afford than I'll take it. And don't you dare call this slingshot "plastic"! It's dense and strong 
and heavy and most likely bomb-proof.
It looks like I'm going to have to keep my other slings covered up so they don't get dusty.

Thanks Bill, this slingshot is everything I hoped it would be.
Go and get your own, you will not get a better deal for a better slingshot!



---
Joe Musselwhite, recognized expert in the field of grip strength and ergonomics:

Joe Musselwhite:

They don't just look GOOD either. They shoot fantastic!

Couple of advantages if you're a side shooter like myself for several reasons;

1) The transfer of force through your wrist directly into the radius and ulna which relieves
and virtually eliminates leverage against your wrist which in turn causes unsteadiness if you
aim like I do.

2) The hand position is natural and not awkward at all. Just like grabbing a handle bar with
finger grooves. Comfort = ability to concentrate and focus more on your target and not your discomfort.

3) Due to the ergonomic design and transfer of force you can shoot much longer without fatique.

4) Ability to see target without obstruction. With the forks angle to the side like they are it gives you a
great view of your target and freedom to play around with aiming techniques.

This is the main advantages I can think of. Not to mention their eye catching appeal. These SS are BEAUTIES!!! 

In case no one's noticed, I LOVE the Hathcock Sniper Sling Shots!!! 

---
Bill "Tex" Herriman, two time National Slingshot shooting champion:

Tex Herriman:

The Cowboy is the first ergo I have ever been able to pick up and shoot straight away! -- Tex

I have two of Bill's slingshots and they are awesome! -- Tex

---
Steve Finighan, English "catapult" shooter:

Steve Finighan:

Just to let you know that the Jade Dragon was waiting on my desk when I got back to work today 
(I've been in France for the past week).
Well what a little beauty! That green G10 looks even better in the flesh and the alterations you did for me 
(taking the thumb/ forefinger gap down to 2 5/8") make it perfect - it fits my hand like a glove and provides 
a comfortable and, above all, stable firing platform. 
The tube slots you cut also work great and I can now easily slot in some looped Chinese tubes for the 
occasions when I run out of Theraband Gold (my preferred bands).

The slingshot barely saw the light of day before I was out shooting on a small practice range out the 
back of my workplace. To my delight I found that I didn't have to alter my preferred 45 degree grip at all 
(I shoot this way with my Dankungs and find it better to gauge range as well as line). I kept your bands 
on (1" straight cut gold Theraband - with a very nice pouch) and when I got to 20/ 20 on a suspended 
Coke can from 20 yds - I decided to finish on that high!! 

Thanks again Bill - 
I'm delighted with this product and it has now replaced my ex hunting slingshot in the pocket of my outdoors 
jacket as my EDC.


---
Dan, shooting enthusiast in California:

Dan:

Yesterday afternoon I got a package from Bill Hays, so I opened up the package and saw a beautiful
 cast bronze slingshot in it. Also he included a extra band set and some free ammo. 
 It is very polished bronze and looks amazing. 
 It fits my hand like a glove and is a very accurate gangster shooter. I really love it and can't wait to shoot 
 more with it. 
 Thanks Bill!


---
---
Greg, shooting enthusiast in Illinois:

Greg: 

I got my BRONZE PREDATOR,,today,, Man does it shoot GREAT,,WOW!! you talk about accurate! 
I Love it,,,you was right,,my friend!! (SLINGSHOOTER1953) GREG


---
Brian Delaney, shooting enthusiast Georgia:

Brian: 

Bill Hays has been kind enough to make one of his gorgeous Jade Dragons available to little old me! 
Ive been sick for a few days but this thing has cured me. I am blown away by the level of craftsmanship 
that has gone into this slingshot. It came to me banded with thera gold and a big ol' bag of shot 
which it flings across my back yard like fire from the mouth of, well, a dragon, go figure .
 
This sling fits my giant hands like a charm and seems to make me deadly accurate too, I think its 
safe to say that Bill has made a real enemy in the squirrels that like to eat up my shed they dont 
stand a chance now. I can tell you that when he named this line the "pocket predator" series he really 
meant it because this thing is lethal and if looks could kill....(shes a real beauty). I can definitely 
say that this will be the one that i grab when I hunt with a slingshot. Sorry I dont have a picture, 
Im still working with an old 35mm and my girlfriends digital camera just shot craps, if i can get some on here i will soon.

Brian


---
Dennis Hansen, shooting enthusiast in Florida:

Dennis:

Today I received one of Bill Hayes' Pocket Ranger Slingshots in G10. 
I had some time to myself, so I decided to test it out a bit. First impression was 
"what a nice small slingshot." I believe G10 is heavier and denser than wood, so this 
slingshot feels good and solid. It is very comfortable to hold, in fact much more comfortable 
than I thought it would be. Bill really knows his stuff. I admire his innovative designs 
and his use of super tough materials; both of which are evident in this Ranger. 
I ordered this slingshot and the next day it was mailed to me. 
Two days later I have it in my hands (today). What great service. 

This Ranger is approx. 5 7/8 inches tall x 3 1/2 inches wide. Space between the forks is just under 2 inches. 
Most of my slingshots have at least 2 1/4 inches between the forks, but I didn't notice the difference. 
My Ranger came with single flat Theraband Gold bands, straight cut 1 inch x 9 inches from forks to pouch. 
I ordered an extra band set assembly, and both are expertly crafted. The bands and pouches are very well made. 
I took advantage and also ordered a 1 pound bag of white marbles from Bill. 
Nice marbles! The fork tips on this slingshot are Bill's new universal forks that will accommodate a number 
of different type bands and attachment methods. I am extremely impressed by this great innovation of Bills. 
This is the only slingshot I have that came with the bands attached sideways. 
Perhaps it's the lack of a twist in the flat bands that makes this shooter so accurate. 

Holding and shooting the Ranger was terrific. My 1st two shots at a suspended soda can 10 meters away were perfect hits. 
That surprised me. Usually I have to "get in the zone" and get used to a slingshot before I start shooting it accurately. 
I continued shooting both marbles and 3/8 inch steel balls till I had shot 100 rounds. I even shot a few 50 cal. 
lead balls with the Ranger, and it shot them perfectly, with equal enthusiasm. I regularly shoot small marbles, 
3/8 inch (9.5 mm) steel balls, and 50 cal lead balls with most all my slingshots, depending which one I am shooting. 
It's great to realize this slingshot can handle any kind of ammo that I like. I was having so much fun shooting this 
slingshot, that I could have shot it all day. I increased the distance from 10 meters up to 15 meters, 
and noticed no change in accuracy. Every time I missed the can, it was a near miss, usually right next to the can. 
I'm sure to be shooting this slingshot often from now on. It will accompany me on my long walks, and every chance 
I get to shoot it I will. This Ranger will serve me well plinking, target shooting, and hunting. 
I highly recommend this slingshot to anyone who really wants a very accurate slingshot that's comfortable to hold and shoot. 
It's very well made and near indestructable; a good thing in case of fork hits; though I don't expect any. 
You can't go wrong with one of Bill Hayes' Rangers. I give it 5 stars out of 5

After buying the Polymer Ranger as well:

I believe these Polymer slingshots, in particular the Polymer Ranger and the Polymer Hathcock Sniper 
are the best deals in high quality slingshots out there. I have a Polymer Ranger and like it a lot. 
I shoot 3/8" steel balls, and 1/2" lead balls very accurately with it. It's one of my favorite slingshots. 
BIll is a slingshot genius. 

---